The Bright Click's SEO Secrets to Boost Your Website's Visibility
July 11, 2023 •Claire Archer-Davis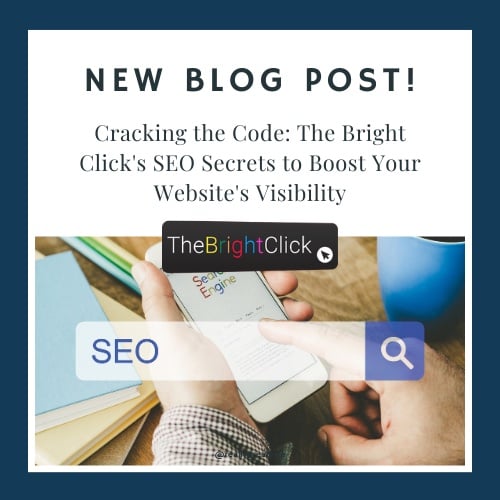 In today's digital landscape, appearing at the top of search engine results is vital for businesses looking to thrive online. However, achieving high rankings requires a strategic search engine optimization (SEO) approach. At The Bright Click, we understand the significance of SEO and have developed a comprehensive methodology to help our clients conquer the search engines. In this article, we will take you through the key aspects of our SEO services, unveiling the secrets behind our success and demonstrating how we can elevate your website's visibility.
Research: Building the Foundation When it comes to SEO, research is paramount. Before conversing with our clients, we conduct in-depth keyword and phrase research. Armed with this information, we gain insights into the terms your target audience is searching for and tailor our strategies accordingly. Our meticulous research allows us to create a solid foundation for a successful SEO campaign.
Understanding: Empowering our Clients We believe in transparency and ensuring our clients understand the SEO process. We demystify the buzzwords and technical jargon, providing you with a clear understanding of our methodologies and the expected outcomes. By working collaboratively, we ensure you actively participate in the optimization journey, making informed decisions that align with your business goals.
Communication: Keeping You in the Loop Effective communication is the backbone of our SEO services. We provide bi-weekly reports and monthly meetings to keep you updated on your website's rankings and successes. This ongoing dialogue allows us to address any concerns, provide timely feedback, and fine-tune our strategies as needed. By maintaining open lines of communication, we keep the momentum going and ensure the continuous evolution of your SEO efforts.
Low-Hanging Fruit: Quick Wins for Immediate Results In the vast landscape of SEO, there are often some quick wins within reach. These low-hanging fruits are keywords and phrases that are highly achievable, providing immediate results. By strategically targeting these opportunities, we can quickly drive traffic to your website and boost its visibility. Let us identify and seize these opportunities to gain a competitive edge in the search results.
Content: Engaging and Optimized for Success Quality content is the cornerstone of effective SEO. Our team of skilled writers creates regular blog posts that engage your audience and demonstrate your expertise to search engines like Google. By producing content that aligns with your target audience's needs and showcasing your intent to deliver an exceptional user experience, we expedite climbing up the search rankings.
Auditing: Unveiling Performance Insights To propel your website's SEO performance, we employ cutting-edge tools to conduct comprehensive audits. These audits assess site speed, broken links, and other technical aspects that impact your site's visibility. By identifying areas for improvement, we develop a tailored action plan to enhance your website's performance and increase its chances of ranking higher.
Ranking Up: Showcasing Results At The Bright Click, we understand that seeing tangible results is crucial. Our detailed reports provide a clear visualization of your website's progress in an easily digestible manner. By showcasing the improvements in your rankings, organic traffic, and other relevant metrics, we demonstrate the effectiveness of our strategies. With our proven track record, you can rest assured that your investment in SEO will yield fruitful outcomes.
Suggestions: Continuously Innovating We don't believe in complacency. As our partnership evolves, we proactively suggest new ideas to keep your SEO strategy ahead of the curve. Our team monitors industry trends and algorithm updates, ensuring your website remains optimized for the ever-changing digital landscape. By staying one step ahead, we equip your business with the tools and techniques needed to maintain a competitive edge.
Evolving: Adapting to the Dynamic Landscape The world of SEO is dynamic, with changing algorithms and shifting best practices. However, you can rely on The Bright Click to stay at the forefront of these changes. With our fingers on the pulse of the industry, we consistently update your website to align with new trends and ensure maximum visibility. By adapting to the evolving SEO landscape, we secure long-term success for your online presence.
When it comes to SEO, The Bright Click stands out as a trusted partner that combines research, understanding, communication, and a commitment to results. Our comprehensive approach, encompassing low-hanging fruit, content optimization, auditing, and continuous innovation, ensures that your website climbs the search engine rankings and maintains a strong position over time. With The Bright Click by your side, you can crack the code of SEO and unlock the full potential of your online presence.